Epworth-driveways-and-other-unique-situations
Make Your Driveway
Look Like New
Sealcoated-and-Striped-Parking-Lot
Maximize the Life
of Your Driveway
Sealcoated-and-Paint-Striped-Parking-Lot
ASPHALT LINE STRIPING
& PAVEMENT MARKINGS
Seatcoated-and-Repaired-Parking-Lot
Parking Lots, Driveways,
Roads and More
Welcome to Brian's Superior Sealcoating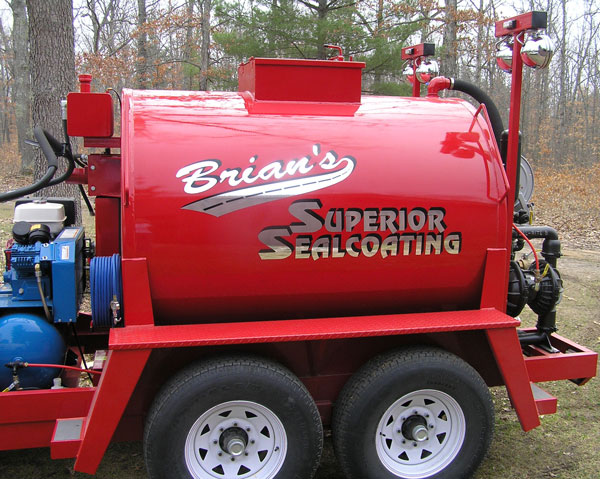 Asphalt is one of the most durable and cost effective surfaces for driveways and parking lots. But your driveway, asphalt parking lot, road or walkway will begin wearing over time — resulting in cracks, holes, settling and fading lines. The asphalt patchwork and repair experts at Brian's Superior Sealcoating can fix any asphalt surface and return it to its original form and function.
Hire a Professional
Our experienced professionals take pride in their ability to handle a wide range of asphalt patchwork and repair projects, including roads, parking lots, and drains. Whether you need asphalt repair work on your home, small business parking lot or a large industrial complex, our knowledgeable craftsman can handle every detail of your asphalt repair project from start to finish, and they will complete your job on time and on budget!
Maximize the Life of Your Driveway
We take great pride in our asphalt maintenance and asphalt repair capabilities and our repair technicians will complete the job right the first time. Preventative maintenance will prolong the life of your asphalt driveway. Proper preventative maintenance is essential to maximizing the life of your asphalt driveway. We use state-of- the-art equipment, high-quality materials, skilled professionals and the newest application techniques, we can ensure that your asphalt driveway repair project is completed correctly and on time. Choosing to use our preventative maintenance services for your asphalt pavement will allow you to avoid costly resurfacing or replacement expenses and maximize the life and aesthetics of your asphalt surface.
This Local Sealcoating Company is Ready for your Call
The skilled and experienced professionals at Brian's Superior Sealcoating will add life to your asphalt driveway pavement and lower your costs over time. For more information on how Brian's Superior Sealcoating's professional asphalt maintenance contractors can help you with your next project, contact us today or call us directly at 231-723-6482 service@nullBriansSuperiorSealcoating.com We proudly serve the North West Michigan including: Manistee, Ludington, Baldwin, Benzie, and Cadillac areas.
Should I put a sealcoating on my driveway?
Yes!, it is recommended that driveways have a sealcoat application put on. Sealcoating is a thin layer that is added over your paved surface. The sealer protects damage caused by rain, snow, UV rays, and fluids from vehicles.
How do I maintain my asphalt driveway?
Set up a maintenance routine with your asphalt paving company that starts with sealcoating your driveway every few years, this will help extend the life of your asphalt. If you notice any cracks, potholes, etc. you should have them repaired as soon as possible to prevent then from growing. Having repairs done early is more cost efficient than having to eventually replace your entire pavement.