Asphalt Repair & Crack Filling
Do you have cracks in your driveway, asphalt parking lot or road? Brian's Superior Sealcoating, serving North West Michigan, is a leading asphalt maintenance company. Asphalt Crack filling is the placement of materials into non-working or low movement cracks to reduce the infiltration of water and other materials into the cracks. When done properly, crack filling can extend the life of your pavement. By sealing cracks in your pavement you avoid water-based erosion, preventing sand and rocks from making their way to the surface. Asphalt crack filling will minimize crack growth, and keep new cracks from forming. Treating the problem areas in your asphalt while they are small is the key to proper crack filling. Crack filling pays for itself by delaying expensive asphalt resurfacing.
Proper maintenance should include crack filling, seal coating, patching and repair. This can help you add life to your asphalt pavement and lower your costs over time.
Crack Filling
In Michigan, potholes are often a sign of spring. Potholes develop when water seeps into pavement through unsealed or improperly sealed cracks. As temperatures drop, the water freezes and expands the size of the crack. When the weather heats up and the ice melts, the water shrinks and dissipates and leaves a void, which then collapses to form a pothole. Depending on the season and site location, typical repairs involve filling the potholes with either hot asphalt mix and a leveling agent. Fortunately, practicing good maintenance and filling cracks as soon as they develop can help you to avoid these problems.
When cracks start to appear in your driveway, asphalt parking lot, road or street, filling them with the proper material – such as the crack fill used by Brian's Superior Sealcoating – can easily extend the longevity of your asphalt surface.
Asphalt Repair and Maintenance
Asphalt wears over time, cracks and stripes fade. The life of an asphalt pavement driveway or parking lot can be extended considerably with proper preventative maintenance. Two vital aspects of maintenance are asphalt patching and crack filling. Brian's Superior Sealcoating asphalt patching repair crew can handle all of your asphalt patching needs. Preventative maintenance services for your asphalt pavement will allow you to save money in the long run by extending the time between resurfacing or replacement.
Emergency repairs may require patching during poor weather conditions. In these situations the repair should be considered temporary and you should plan for a more permanent repair when the weather improves.
Repairing Asphalt - Crack Filling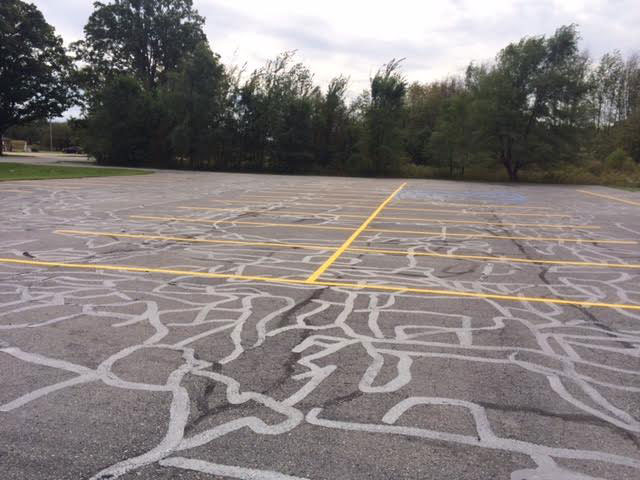 Asphalt Driveway Repair - Sealcoating